AMLHUB supports RealMe® identity verification
Verify identity fast with AMLHUB and RealMe®
What is RealMe

®

Identity Verification?
Onboarding customers and running identity checks take up a lot of valuable time. Speed up the process by using AMLHUB's electronic identity verification service, integrated with RealMe®.
AMLHUB users can now instantly onboard any RealMe® verified Kiwis through a simple email invite. Your customers just log on to RealMe® with their protected username and password, and agree to share their RealMe® verified identity. No need to collect or store any sensitive documents.
RealMe® is the easiest and most secure way to prove identification online. Multiple governments and financial service providers use RealMe®, including:
The Ministry of Social Development

NZ Transport Agency

The Electoral Commission
RealMe® is also the primary identity verification for banks such as Westpac, BNZ, ANZ, and Kiwibank.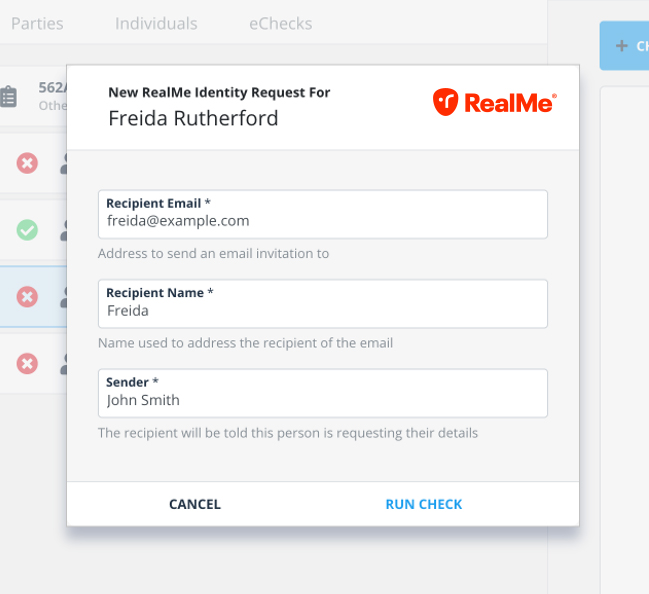 Save time through a secure process
The RealMe® integrated service provides Anti-Money Laundering Compliance Officers with a quick and easy way to remotely verify client identity.
Not only is our AML electronic verification easy for you and your clients, but it also reduces risk. RealMe® verification removes the need to store sensitive and personally identifiable information, like passports, citizenship documents, or driver licenses in your system.
RealMe® verification 'complies with the code' and 'provides a high degree of confidence in an individual's identity'.
Explanatory Note: Electronic Identity Verification Guideline July 2021
More than 900,000 New Zealanders are RealMe® verified with the number increasing every day.
RealMe® identity verification offers your customers more control over their personal information, letting them choose what they wish to share during each verification event. They can register with RealMe® and become verified if they wish to take advantage of this service.
This is a game changer for Kiwi's under New Zealand's anti money laundering rules

Once a kiwi becomes RealMe verified they can be identified instantly and remotely whenever identity is required whether by a lawyer, accountant, bank, fund manager or other reporting entity.

RealMe is the gold standard Government owned and managed identity service for individuals. This is the first step in providing access to the identity portal via the AMLHUB. Any reporting entity can gain access to RealMe identity verification by subscribing to the AMLHUB. No longer do reporting entities need to store Kiwi's private personal identity information.
Now they can just do it once

We know many Kiwis are fed up with the constant need to identify themselves. Now they can just do it once, thoroughly, with RealMe and that online identity will last 5 years and is easy to renew. Once signed up to the AMLHUB anyone needing to identify individuals can launch a RealMe verification seamlessly. Individuals simply log on to RealMe via a secure link and, using two factor authentication, prove it is you. There is no need to recycle identities through private sector databases – simply prove you are you, at the push of a button. It is very fast and secure. We think this is the future for identification for Kiwis.
This is an important initiative for RealMe

We have set the bar high for securely identifying New Zealanders and through the AMLHUB approved entities like lawyers, accountants, banks, and real estate companies can access our secure database to verify individuals. Rather than everyone trying to connect to RealMe themselves by going through the AMLHUB they can access our identity service quickly and securely. We expect more and more Kiwis over time benefit from this by becoming RealMe verified.
We are urging all our clients to get RealMe verified

From that point on identifying them becomes instant and a pain point for identifying people disappears. The government is doing this already as most Kiwis have a passport and a RealMe log in. Not having to spend time and effort collecting and then storing individuals private data is a game changer for us. Not just us, but for all reporting entities. We strongly support this initiative from RealMe and the AMLHUB team and expect Kiwi's to get on board.
Want to know what the RealMe® identity verification process looks like?
When you invite your customers to verify their identity using RealMe®, they will receive an email that looks like this.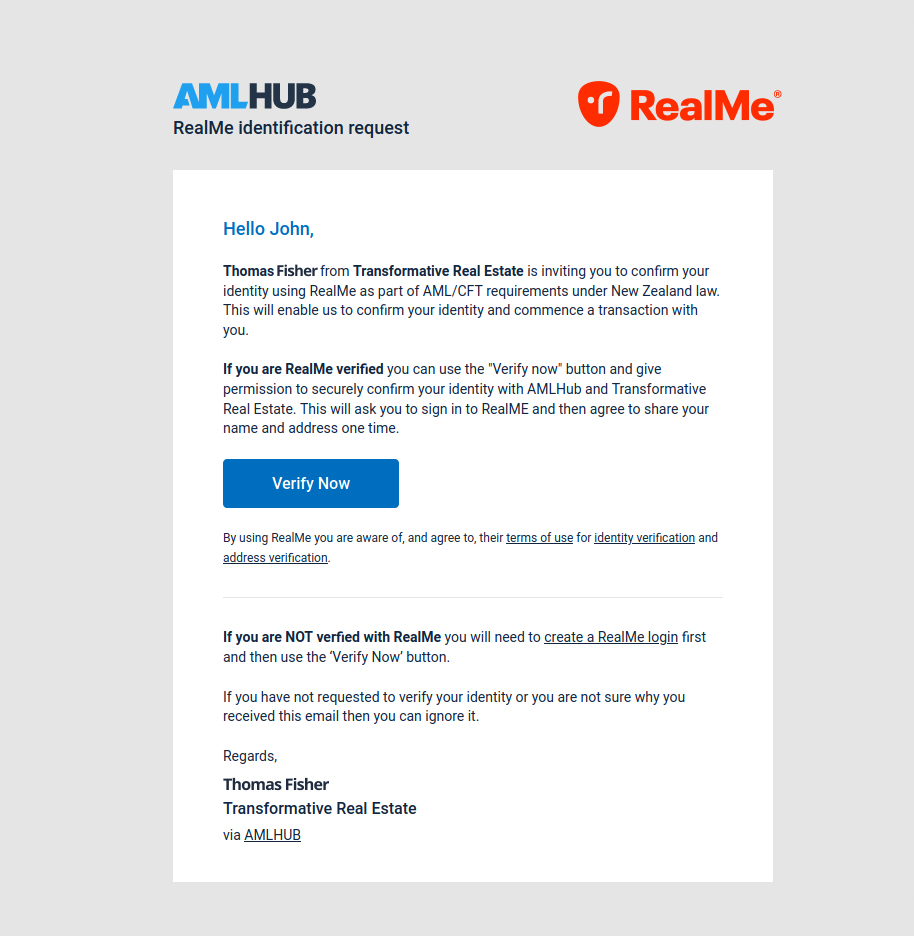 AMLHUB supports a range of eCheck options
The addition of RealMe® to AMLHUB adds another time-saving option to the already extensive eCheck options in AMLHUB, including:
Biometric identity checks
PEP check (politically exposed persons)
Electronic driver license check
Electronic proof of address check
Companies register access
...and more.
Our goal at AMLHUB
Our goal is to give you access to the best-in-class Electronic Identity Verification and eCheck services from multiple providers in one place. We want to streamline your Customer Due Diligence and identity verification workflows. This will provide you with the tools you need to stay compliant while minimising costs.