Manage your Anti-Money Laundering compliance end-to-end
AMLHUB is an online platform that makes the Anti-Money Laundering (AML) compliance process clear and simple. It gives you total control and visibility over your AML obligations, with support on hand when you need it. Using the full suite of AMLHUB tools, you can be confident you will be AML compliant and audit-ready at any time.
AMLHUB acts as the control centre for Compliance Officers to manage all AML activities, including onboarding clients, conducting Customer Due Diligence (CDD), and checking the correct deal information has been collected. We also keep you up to date on the latest developments in guidance for your industry, so you always know when you need to make changes.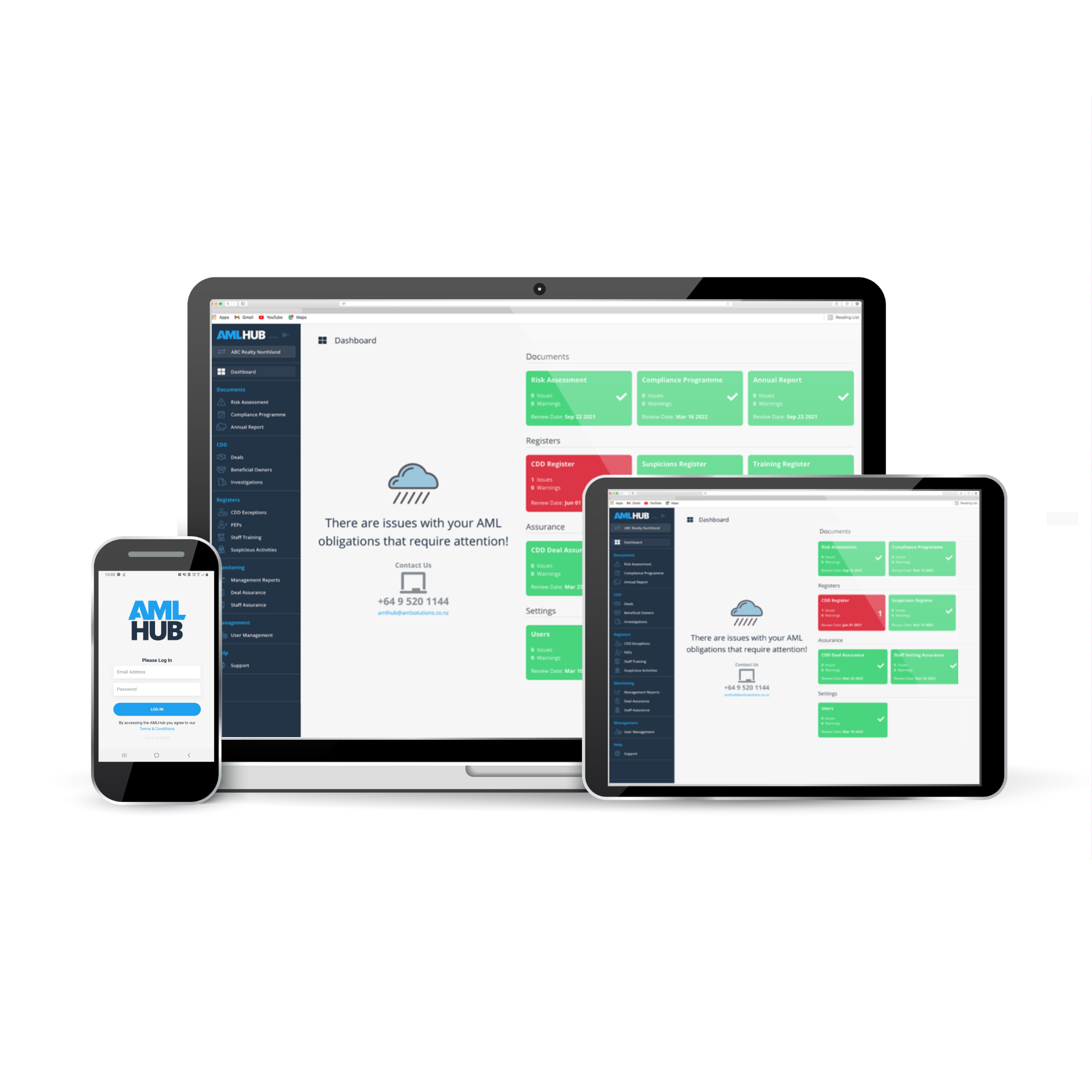 With AMLHUB you can...
Create and manage deals, matters, products, or cases
Perform Customer Due Diligence face to face or remotely
Monitor and verify deals and customers
Conduct staff assurance
Manage staff training
Record suspicious activities
Get updates on latest regulations and guidance
...and more.
The handy dashboard shows you exactly where you need to take action, and timely prompts and reminders keep you on track with your Anti-Money Laundering tasks.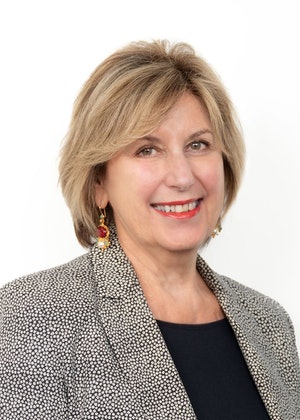 "We love working with the AMLHUB and team. They have made managing my branch network a breeze and provide wonderful help and advice to help us get the job done. We see many technology providers in the market but none come close to the end-to-end solution offered by the AMLHUB. It continues to evolve with the industry and get better."
- Geraldine Meo, Compliance Officer, Harcourts Cooper & Co.
Making Customer Due Diligence easy
CDD is an important part of your AML compliance, but it's also a blocker to progressing your cases. AMLHUB helps you complete CDD quickly, without cutting corners or compromising on AML best practice.
Perform Customer Due Diligence your way
Face-to-face: Meet your customers where they are, verify their documents in minutes, and log them against their case using the AMLHUB app.
Remotely: If you can't meet your clients in person, you can onboard and verify them remotely using AMLHUB's handy eCheck tools. AMLHUB integrates with RealMe

® for instant ID verification within the platform. No need to collect and store sensitive documents.

Outsource: If CDD gets complicated or you simply don't have time, you can outsource it to us with a click of a button. We'll take care of it for you quickly and to the highest compliance standards.
AML on the go with the AMLHUB app
Anti-Money Laundering compliance should not be a roadblock to your business, so you need the tools to sort it out when and where you do business.
The free AMLHUB app helps your front-line staff onboard clients, edit deals, and complete Customer Due Diligence in the field, in just minutes.
You no longer have to worry about sensitive client information and documents stored in filing cabinets or on your phone. With AMLHUB you can instantly and securely upload ID to the cloud.
Available on Google and Apple stores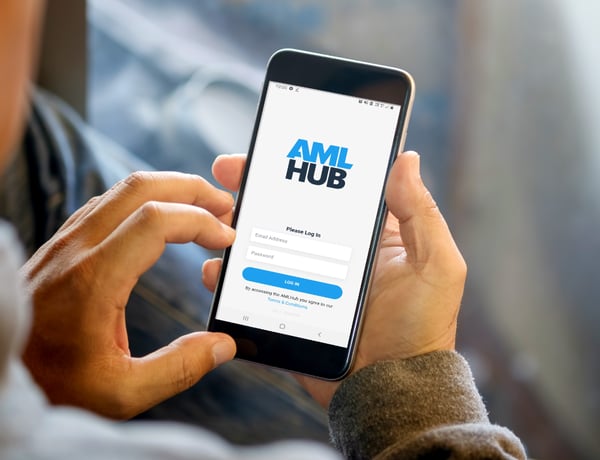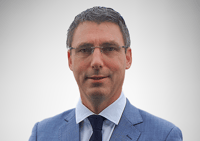 "AMLHUB users have a robust process of onboarding clients, ongoing training and reporting to help to meet their AML compliance obligations. We find more issues for those using manual onboarding as the process can be less robust. On top of that, the full suite of AMLHUB registers and reminders make it easier for reporting entities to meet the full suite of AML compliance obligations beyond just CDD."
- Daniel Relf, CEO, Strategi Compliance
Strategi Compliance is a leading provider of AML/CFT audits, having completed over 1000 audits across phase one and phase two reporting entities.
Why AMLHUB?
Businesses have a legal requirement to comply with AML/CFT obligations by putting plans and measures in place to make sure they're not supporting money-laundering or the financing of terrorism by mistake.
But the measures you put in place depend on your organisation—and you can't contract out your liability to third parties. So make sure you are 100% AML/CFT compliant by taking control of your AML/CFT activities.
AMLHUB empowers you to take control of your entire AML compliance in the most cost-effective and efficient way. By partnering with AMLHUB, you are protecting yourself against legal and reputational damage of AML negligence, and contributing to the global fight against money laundering and the crime it enables.