Learn how AMLHUB makes compliance simple
Anti-Money Laundering and Countering the Financing of Terrorism (AML/CFT) compliance is an essential legal requirement that protects your business from engaging in money-laundering activities. But compliance is risk-based and complicated. And with over 4000 pages of legislation and guidance material, understanding exactly what you need to do to comply for your industry can be difficult.
That's why we created AMLHUB: an Anti-Money Laundering application that helps you achieve complete AML/CFT compliance, in the easiest way and at the lowest cost to your business.
The story begins with New Zealand's leading Anti-Money Laundering consultancy: AML Solutions.
After years of working in AML/CFT compliance, and helping hundreds of businesses meet their AML/CFT obligations, the team at AML Solutions saw a common problem. Time and time again they found Compliance Officers having to wade through old records, trying to keep tabs on their many clients, all while struggling to keep up with the latest AML/CFT legislation.
AML Solutions saw an opportunity to simplify the process, save business time, and empower Compliance Officers to own their Anti-Money Laundering lifecycle. So they put their heads together and centralised their combined knowledge into an easy-to-use Anti-Money Laundering platform.

… and AMLHUB was born.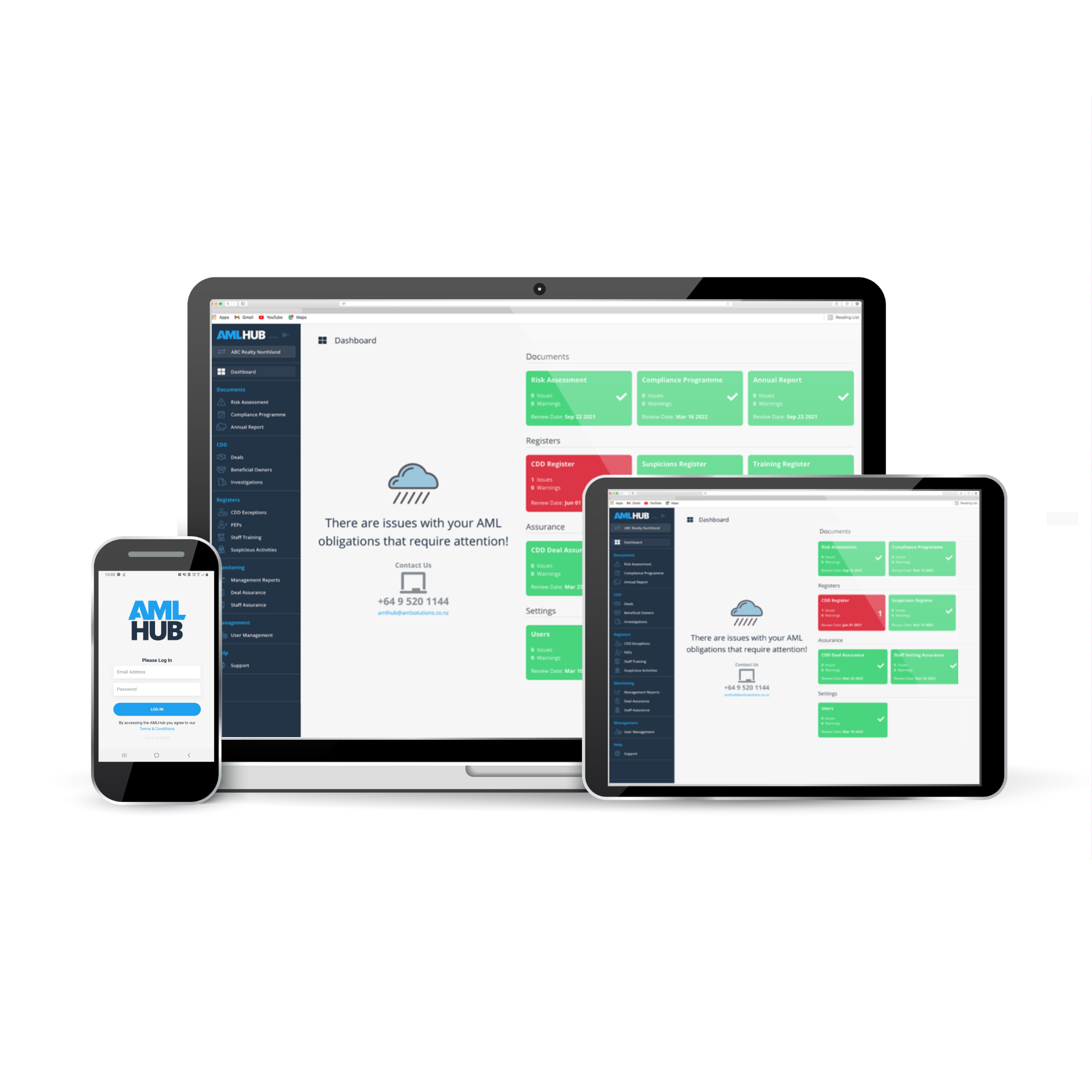 Manage your end-to-end Anti-Money Laundering obligations
AMLHUB is an end-to-end Anti-Money Laundering solution designed to reduce the time and resource burden of compliance procedures.
Conduct Customer Due Diligence (CDD) quickly and easily
Upload and maintain activity registers
Receive prompts and alerts when activities are overdue
Capture all documentation and activity in one place
Sleep easy knowing your business is protected by the extensive experience of the best minds in the industry.