Designed and developed by industry experts AMLHUB streamlines all your compliance activity allowing reporting entities to be and stay AML/CFT compliant at the lowest cost to the business.
About AMLHUB
Designed and built by AML experts, AMLHUB is an industry best-practice solution enabling effective and ongoing AML regulatory compliance.
Launched in 2018 to address the needs of Phase 2 non-financial entities (Real Estate, Accountants & Lawyers) required to comply with the AML/CFT Act 2009, AMLHUB is a proven software-as-a service (SaaS) platform with more than 10,000 users managing all of their AML/CFT compliance obligations
AMLHUB is designed to reduce the administrative and record keeping burden of compliance, allowing reporting entities to focus on their core business. This gives managers and their compliance teams confidence they are meeting their AML obligations.
We would welcome the opportunity to demonstrate how our platform can help you.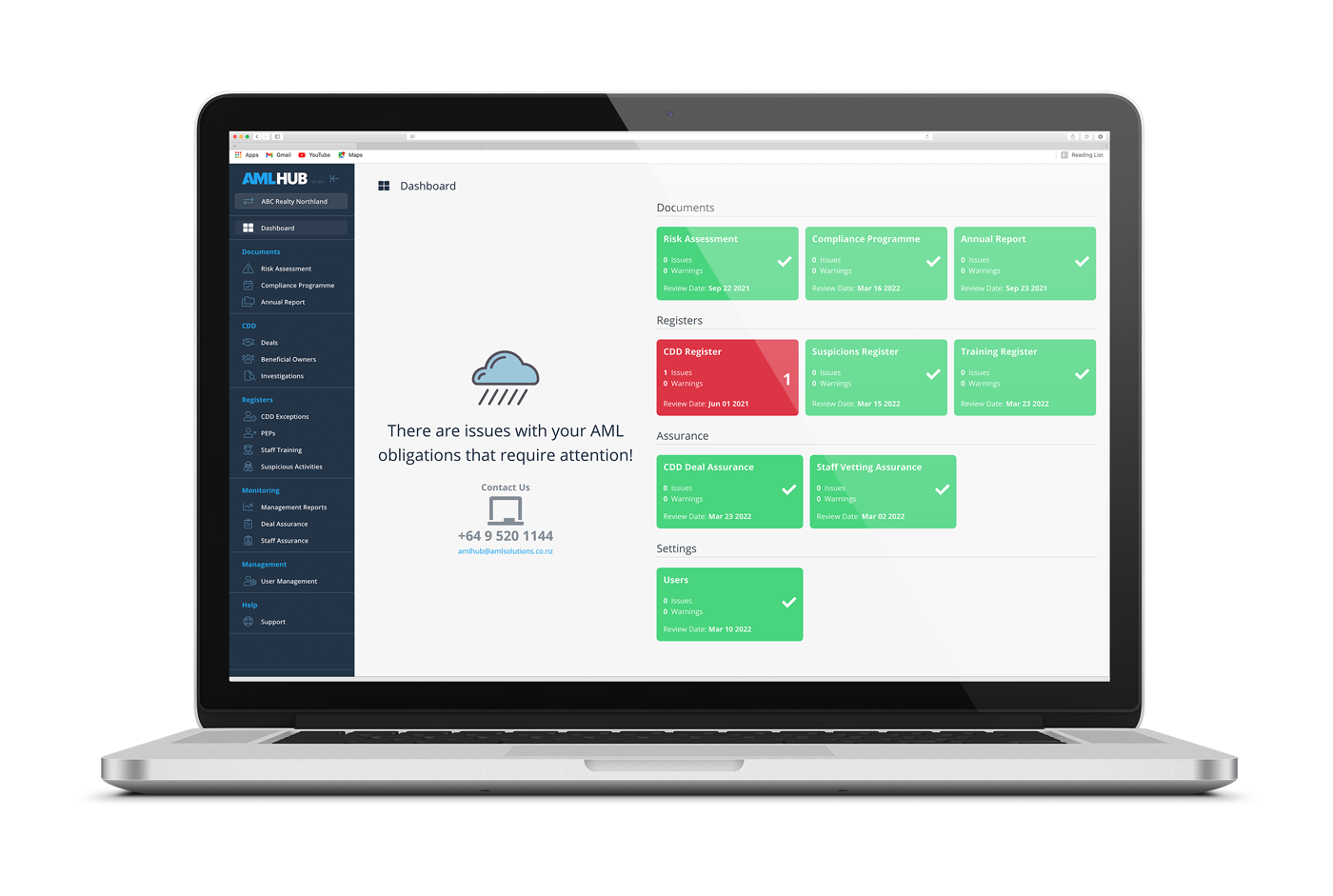 More than just a Client Due Diligence or Identity verification solution, AMLHUB is an end-to-end solution that streamlines ALL your compliance processes and procedures
Developed by AML professionals that have conducted 1000's of consulting engagements or Audits for Reporting Entities,
Designed using the principles of simplicity, ease of use, sound document management & activity logging.
Avoid reputational risk and potential brand damage through non-compliance. Not only will you Know Your Customer... as a business you will Know You Comply
Avoid reputational risk and potential brand damage
Learn about the many features of AMLHUB and it's advantages...
Features
Subscription based SaaS platform delivering end-to-end management of your entire AML lifecycle, including:
Document Management - Easily update and securely store all your AML documents including version control of your Risk Assessment and Compliance program
Customer Due Diligence builder with best in class integrated electronic Identity verification (eIV) tools
Mobile app for quick and easy client onboarding
Full suite of AML Registers including Exceptions, PEPs, Training and Suspicions
Critical management tools for rapid assurance transaction monitoring & reporting
Integrated outsourcing service at the push of a button when required
Easy remote auditing of the AMLHUB ensuring cost-efficiency
Full suite of support services online and on-call assisting you throughout the compliance lifecycle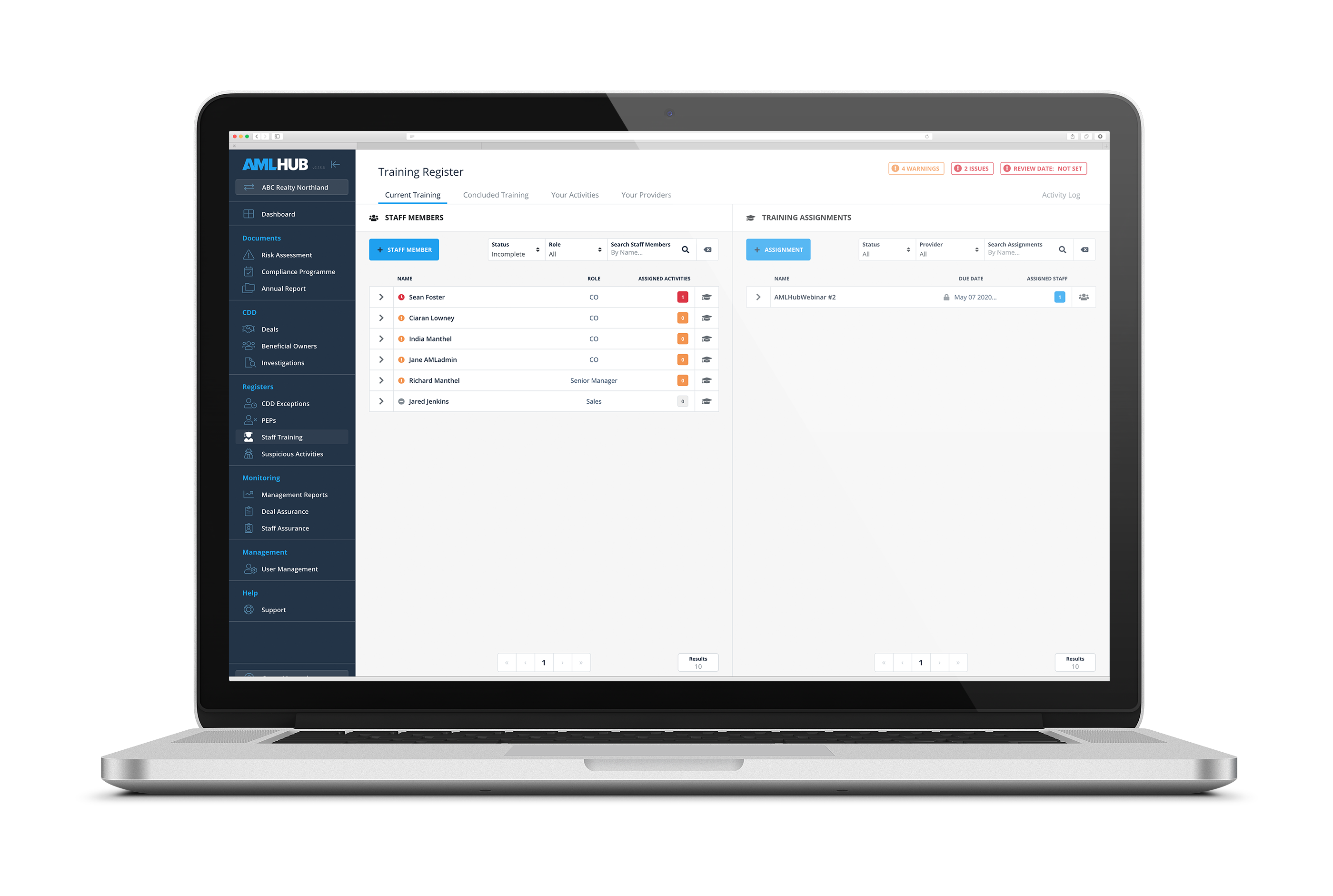 Full visibility over all your AML obligations
Provide confidence to your Supervisor
Significantly reduce the time burden of compliance
Continuity in the event of staff turnover
Avoid missing critical obligations

Ongoing client due diligence made easy
Reduce your brand risk and cost of non-compliance

Secure storage of your customers private data
Wow, This Is Amazing!

The AMLHUB transformed the way we do our business. Tracking compliance has never been easier, and the notifications and triggers help us keep gold standard compliance and reporting. I HIGHLY recommend it to anyone.
Awesome Product!

AMLHub is a cloud-based portal designed to assist all compliance officers to meet their own and their company's obligations
Incredible Support!

The AML Hub is perfect for helping you keep between the lines of compliance. On top of that the sync with AML Solutions is great. We get constant updates on best practice and have enlisted the Solutions team to audit our doings and consult our team.
Our Awards
We strive towards always providing our customers with the best platform to enable their success.
Designed for a small single user office. Includes:
Single Reporting Entity
Single Admin user (i.e. Compliance Officer)
Unlimited users for client onboarding (mobile & desktop)
Mobile app for instant identification
Secure, version-controlled storage of critical AML documents
Full suite of Registers - Exceptions, PEPs, Training & Suspicions
Access to best in class electronic Identity Verification (eIV) tools*
Access to integrated CDD outsource services*
Preparation and/or upgrade of your Risk Assessment & Compliance program*
Free PEP checks
Free support
Monthly Pay As You Go option
*Additional charges may apply
Designed for a larger business with muliple offices/branches or a compliance team. Includes all Starter features, plus:
Up to 5 Admin Users*
Transaction Monitoring
Management Reporting
Assurance Services*


* Additional charges may apply
All features in Premium plus additional tailored services. Some of the services our enterprise clients use include:
Centralised visibility across branch networks
Shared service/group billing
Consolidated Group level reporting
API integration to existing tools & platforms e.g. Practice Management/CRM/eIV
Volume discounts for 3rd party tools e.g. eIV
Tailored assurance & training services
We welcome the opportunity to discuss your specific requirements.
Free unlimited + all of what is included in Basic +:
short bullet point
or two
about what can be customized in plans