New Now with RealMe® Identity Verification
Manage your entire AML compliance from one platform
Know Your Customer, Know You Comply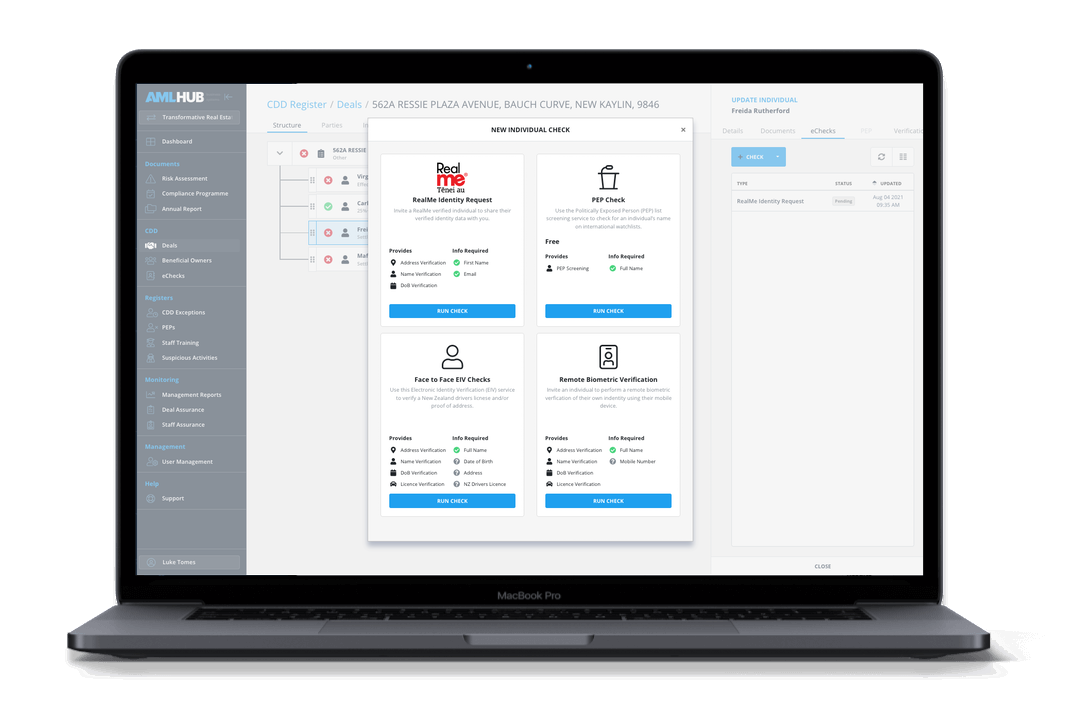 TRUSTED BY THESE COMPANIES & 10,000 + USERS




RealMe
®

identity verification service, now available in AMLHUB

Customers of AMLHUB can now use the RealMe® service to electronically verify the identity of individuals who have a RealMe login and are RealMe verified. A simple email invite, with the customer then verifying their identity and address securely using RealMe.
Why choose AMLHUB?
AMLHUB's purpose is to make AML/CFT Compliance processes efficient and accurate. So your business can manage AML compliance obligations with confidence.
Anti-money laundering and counter financing of terrorism compliance laws exist to protect New Zealand and your business from being used to launder money or finance terrorism. Meeting AML and CFT compliance requirements can feel like a burden, especially for time-poor compliance officers. And while most businesses don't intentionally engage with this criminal activity, the risks of negligence and compliance errors resulting in reputational damage are very real. AMLHUB has been developed by seasoned AML professionals to streamline and manage all aspects of AML/ CFT compliance for your business.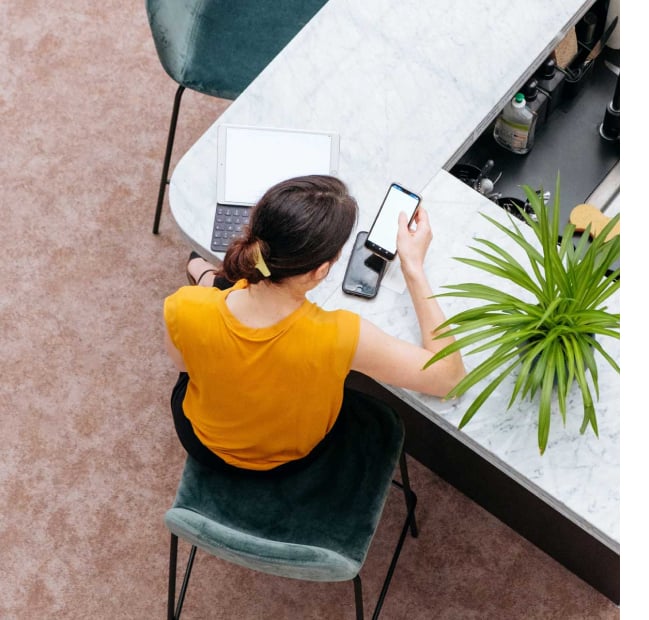 Streamlined Risk Assessment
Capture the money laundering and financing of terrorism risks that you could expect in the course of running your business
Empowered Compliance Officer
Ensure they're set up to administer and maintain your AML/CFT programme
Efficient processes including customer identification and verification of identity. Now with RealMe identity verification.
Track Suspicious Activity
Automated Reporting, Auditing and Annual Reporting systems and processes.
The AMLHUB Story
The story begins with New Zealand's leading AML consultancy; AML Solutions. Having spent years working with AML/CFT compliance and helping thousands of businesses meet their AML/CFT obligations, a bunch of AML Solutions' top consultants decided to centralise their combined knowledge into an easy-to-use platform. Time and again these AML professionals came across compliance officers wading through old records and trying to keep tabs on their many clients, all while keeping up with the latest AML/CFT legislation. They saw an opportunity to simplify the process, save businesses time and empower compliance officers… and AMLHUB was born.
The AMLHUB is an end-to-end solution designed to reduce the time and resource burden of compliance procedures. Sleep easy knowing your business is protected by the extensive experience of the best minds in the industry.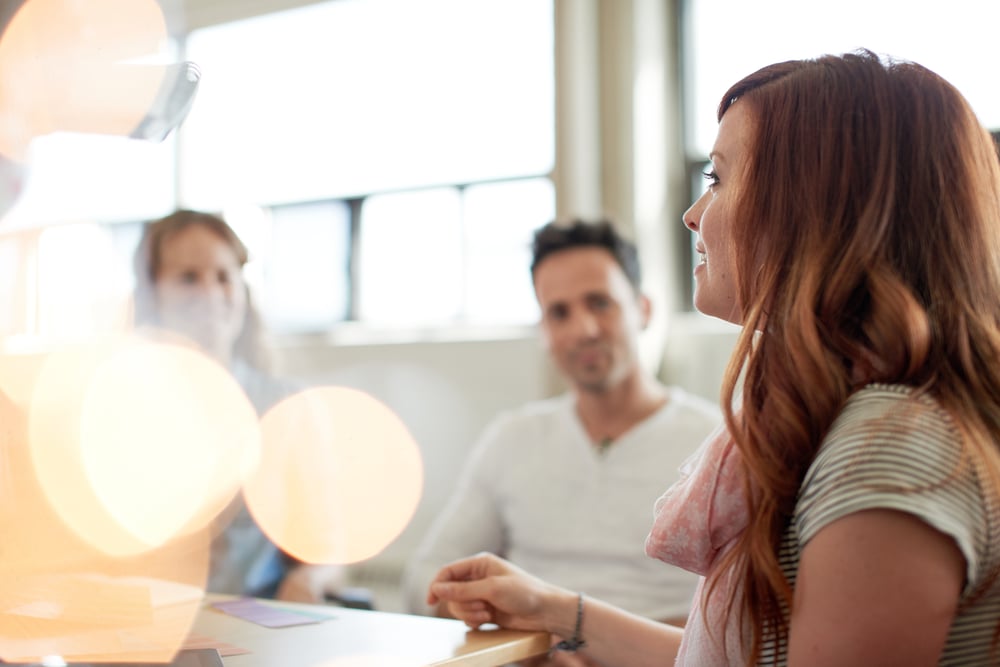 Hearing the announcement, "Sold!" on a property is an exciting moment for the seller, the buyer and the Real Estate agent. Don't let the complexities of CDD and time consuming AML/CFT compliance processes dampen that new sale high.
Unique to AMLHUB is our mobile app. Onboard new customers on the ground with the CDD register supported by RealMe electronic identity validation. Get temporary and permanent exceptions to move applications along while you're still waiting for outstanding information. And plan and execute routine checks for fast deal assurance and staff assurance. All of this and more can be done on the move, as quickly as going once, going twice, sold!
AMLHUB is your go to for all your AML/CFT compliance processes on the go.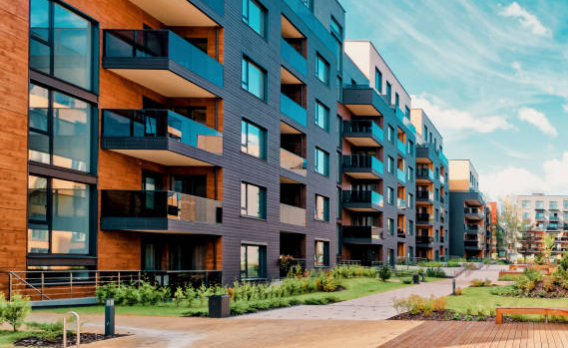 Client confidentiality is one of the founding principles of any Law Firm. So how do you deal with this client privilege when it comes to analysing and reporting suspicious financial activity?
AMLHUB supports your compliance officers by providing a clear, centralised and streamlined platform to house all your AML/CFT compliance processes. This enables efficient management, tracking and oversight on all AML/CTA compliance activity including ongoing CDD processes. This transparency gives both business and client a clear understanding of AML/CFT requirements and obligations, negating the need for potentially disclosing sensitive client information.
Under the AML/CFT Act, Law firms are required to complete CDD and maintain AML/CFT compliance. With AMLHUB you can protect your client's privacy and your relationship with them.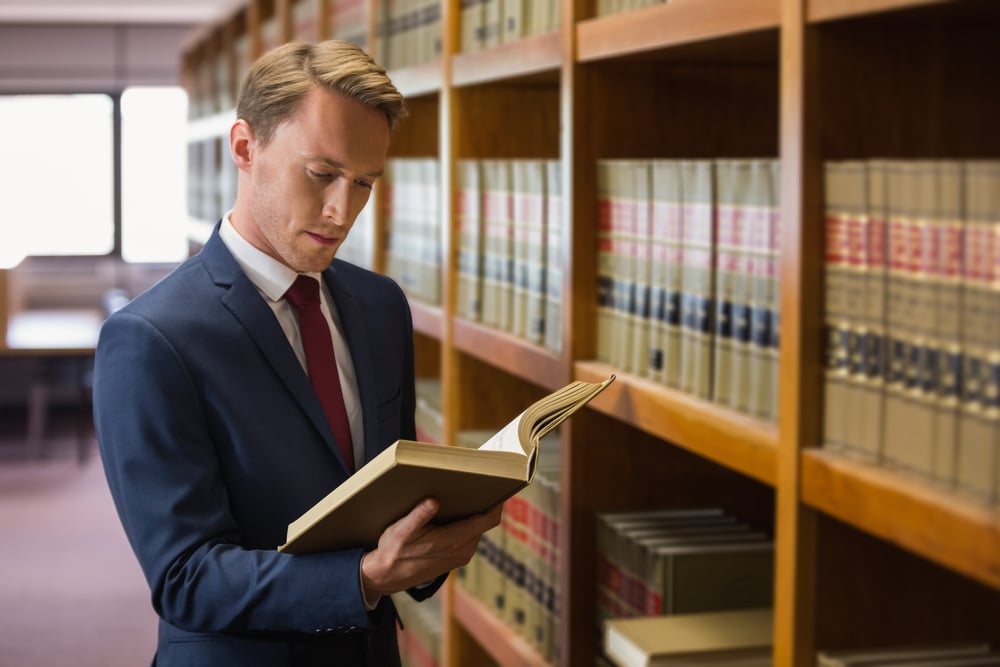 Anti Money Laundering and Counter Financing of Terrorism compliance laws are complicated at the best of times. Add to that the often frequent changing or increasing requirements and it's a wonder you get any real work done. AMLHUB takes the guesswork out of AML compliance and ensures you and your clients are always up to date.
AMLHUB makes easy work of audits. Plan and execute routine checks for fast deal and staff assurance, track document changes and streamline management reporting. Capture all your client activity in one place for transparent transaction monitoring and easily identify suspicious behaviour.
Keep AML/CFT compliance clear and simple with AMLHUB.
Accountants are some of the most at-risk professionals when it comes to money laundering by criminals. This is why it's pertinent that you and your clients are up to date with all AML/FCT compliance requirements. While most Accounting firms already have compliance officers or teams, AMLHUB streamlines the process, making it easy to keep that reputation you've worked so hard to build.
Understandably, most businesses don't intentionally engage in criminal activity, but even negligence and compliance errors can result in devastating reputational damage. AMLHUB has been developed by AML industry experts to streamline and manage all aspects of AML/CFT compliance for your business, protecting you through ongoing CDD and transaction monitoring and identifying suspicious behaviour with ease.
AMLHUB lets you do your job and keep building your reputation.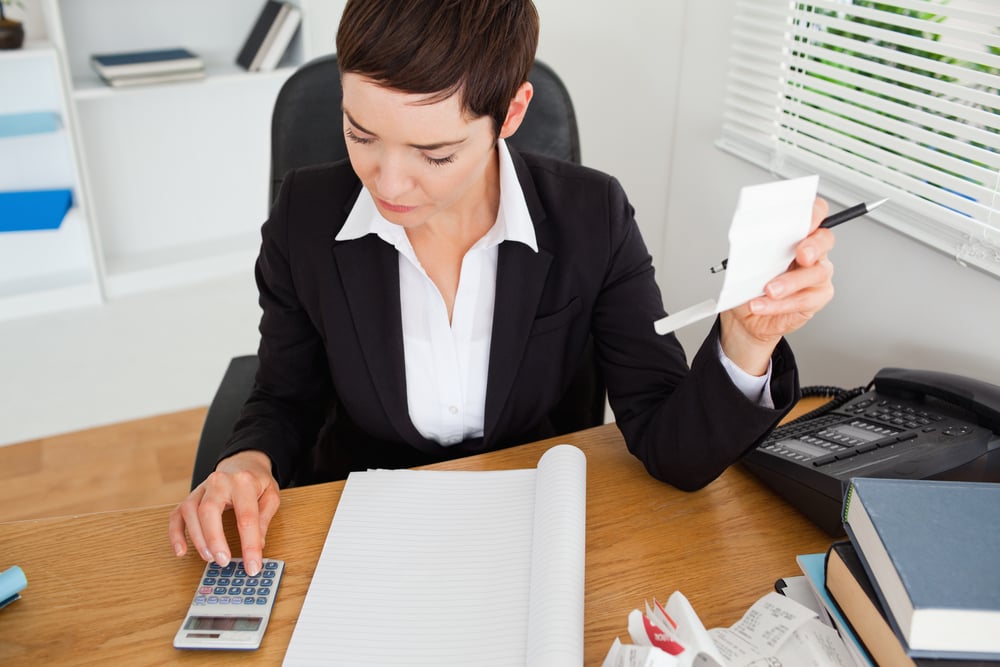 We are urging all our clients to get RealMe verified

From that point on identifying them becomes instant and a pain point for identifying people disappears. The government is doing this already as most Kiwis have a passport and a RealMe log in. Not having to spend time and effort collecting and then storing individuals private data is a game changer for us. Not just us, but for all reporting entities. We strongly support this initiative from RealMe and the AMLHUB team and expect Kiwi's to get on board.
Now they can just do it once

We know many Kiwis are fed up with the constant need to identify themselves. Now they can just do it once, thoroughly, with RealMe and that online identity will last 5 years and is easy to renew. Once signed up to the AMLHUB anyone needing to identify individuals can launch a RealMe verification seamlessly. Individuals simply log on to RealMe via a secure link and, using two factor authentication, prove it is you. There is no need to recycle identities through private sector databases – simply prove you are you, at the push of a button. It is very fast and secure. We think this is the future for identification for Kiwis.
This is a game changer for Kiwi's under New Zealand's anti money laundering rules

Once a kiwi becomes RealMe verified they can be identified instantly and remotely whenever identity is required whether by a lawyer, accountant, bank, fund manager or other reporting entity.

RealMe is the gold standard Government owned and managed identity service for individuals. This is the first step in providing access to the identity portal via the AMLHUB. Any reporting entity can gain access to RealMe identity verification by subscribing to the AMLHUB. No longer do reporting entities need to store Kiwi's private personal identity information.
This is an important initiative for RealMe

We have set the bar high for securely identifying New Zealanders and through the AMLHUB approved entities like lawyers, accountants, banks, and real estate companies can access our secure database to verify individuals. Rather than everyone trying to connect to RealMe themselves by going through the AMLHUB they can access our identity service quickly and securely. We expect more and more Kiwis over time benefit from this by becoming RealMe verified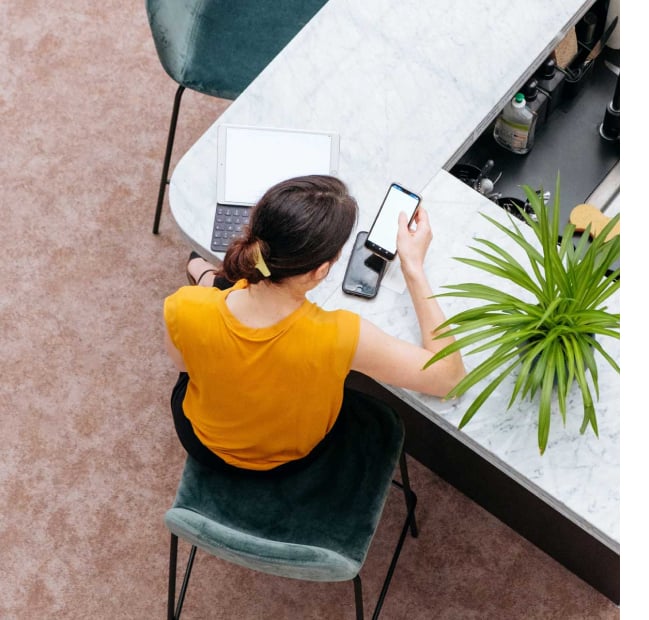 Why AMLHUB
The story begins with NZ's leading AML consultancy, AML Solutions. After helping over 2,000 businesses to meet their obligations under the AML/CFT legislation, the team behind AML Solutions took their extensive experience and knowledge and used it to build a best practice solution... and AMLHUB was born.
AMLHUB is an end-to-end solution and is your best option for reducing the time and resource burden of compliance procedures. And you can sleep at night knowing that your business has experience on your side to protect you.