New Now with RealMe® Identity Verification
Manage your entire AML compliance from one platform
Know your customer. Know you comply.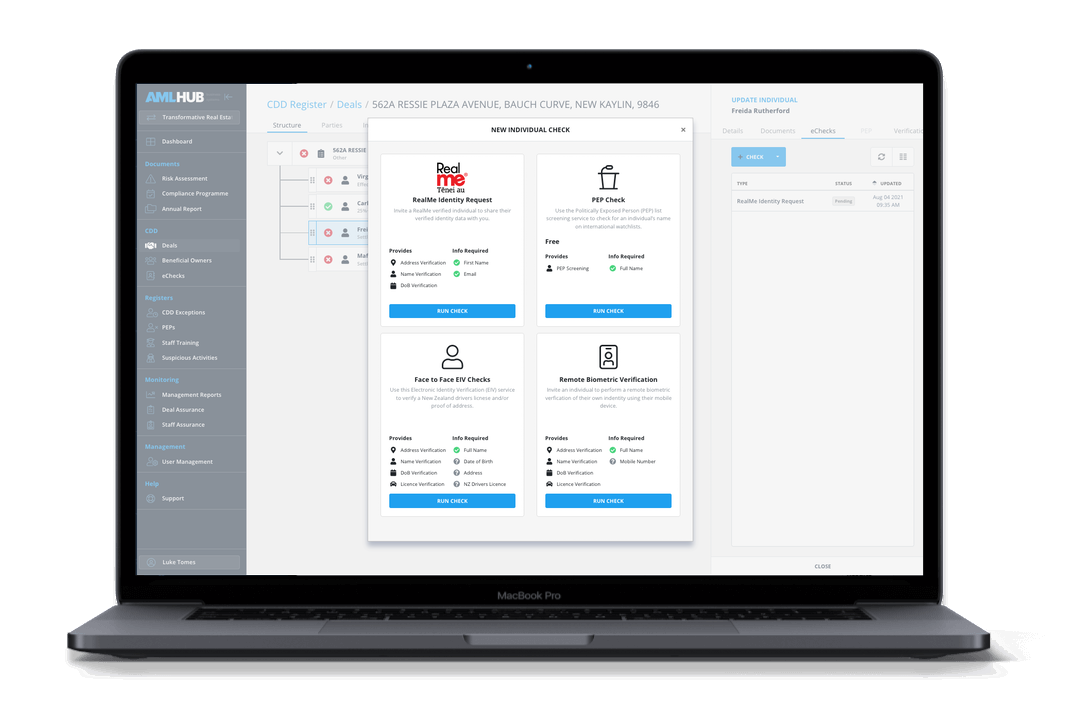 Get compliant. Stay compliant.
Anti-Money Laundering (AML) laws help keep NZ safe and protected. But they're complicated, and it can be difficult to know where to start. How do you keep track of all your processes? How can you make sure your business is compliant? And how can you do this in the most cost-effective way?

AMLHUB is a cloud-based platform and app built by NZ's Anti-Money Laundering experts. It helps you meet your AML/CFT legal obligations in the simplest way and at the lowest cost to your business.
AMLHUB takes the confusion out of AML compliance, turning it into a simple series of tasks to complete that you have total control over. It helps you meet your AML/CFT obligations with ease.
Save time and money by getting your AML right the first time.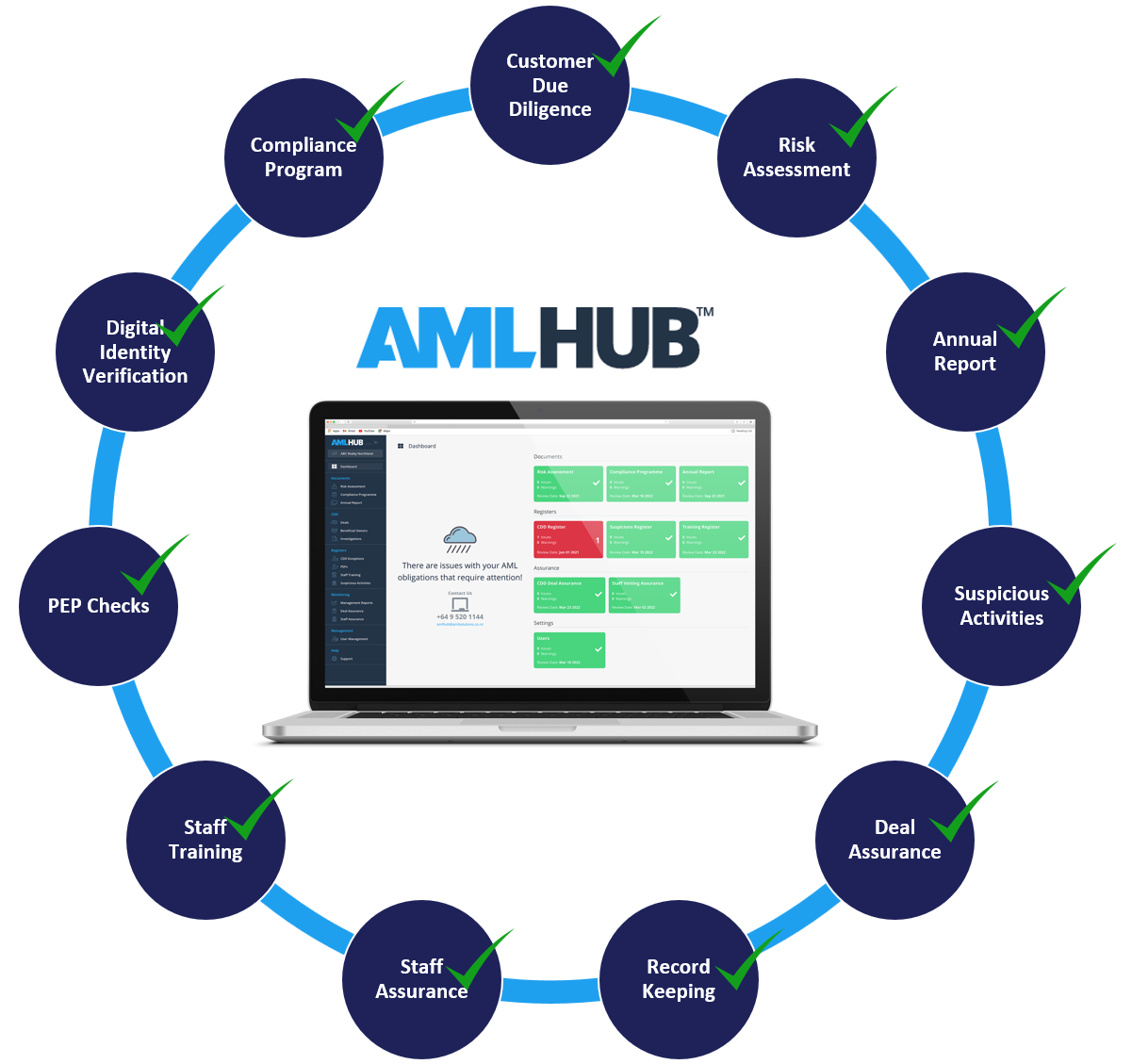 How AMLHUB works
AMLHUB helps you capture risks and document your Anti-Money Laundering (AML) processes in one central location.
The platform takes you through an easy path to complete your AML activities, and prompts you when you have outstanding tasks to do, so you're never caught short.
By centralising your AML activities in one platform, you get complete oversight of everything you are doing, or should be doing, to achieve and maintain AML/CFT compliance for your business.
TRUSTED BY THESE COMPANIES & 10,000 + USERS





We're really pleased with our new subscription to AMLHUB.

"As Compliance Officer I now feel more confident that we will be fully compliant at next audit. I also have more confidence that our documentation is well organised and easily reviewed. Reporting and audits are going to be much easier."
How has AMLHUB helped you manage your AML compliance programme?

"A God-send."
We love working with the AMLHUB and team.

"They have made managing my branch network a breeze and provide wonderful help and advice to help us get the job done. We see many technology providers in the market but none come close to the end-to-end solution offered by the AMLHUB. It continues to evolve with the industry and get better."
[AMLHUB] allows us to spend more time focused on our core business.

"The AMLHUB and mobile app has provided Barfoot & Thompson with a secure and reliable platform to assist us to meet and manage all our AML obligations. It has allowed us to streamline onboarding as well as the ability to efficiently monitor our large network of branches. The AMLHUB and the customer service team provide us with tremendous support, peace of mind, and allow us to spend more time focused on our core business."
AMLHUB increases the level of compliance and reduces overall compliance costs.

"It offers an end-to-end AML solution, from onboarding clients through to a comprehensive audit trail that helps meet a Reporting Entity's AML compliance needs."
We are extremely happy with how the HUB supports us and our company.

"As the AML Compliance Officer for 11 real estate offices, 120 salespeople, and 34 administration staff, having an AML platform able to handle our volume of work, is user-friendly, and assists me to ensure I am meeting our AML obligations easily and efficiently is mandatory. The AMLHUB provides all of those things and we are extremely happy with how AMLHUB supports us and our company. The AML Solutions team are knowledgeable and always on hand for any questions I have which is really reassuring in such an important job!"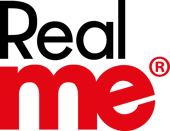 AMLHUB integrates with RealMe® for secure ID verification
Users of AMLHUB can now use the RealMe® service to electronically verify the identity customers who have a RealMe login and are RealMe® verified. A simple email invite to your clients allows them to verify their identity and address securely using RealMe®.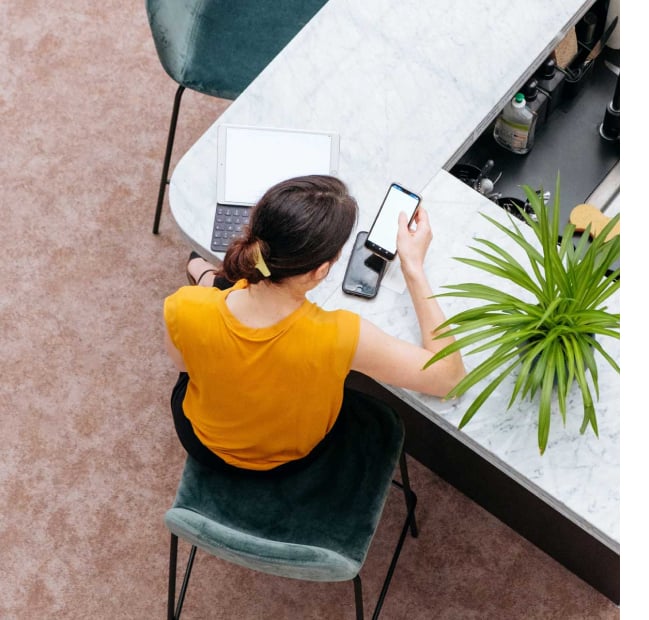 Why choose AMLHUB?
AMLHUB removes the confusion around Anti-Money Laundering compliance, and turns it into a simple, logical process for all businesses.

AMLHUB empowers customers to take control of their entire AML compliance process in the easiest and most cost-effective way. In this way AMLHUB protects New Zealand businesses against the legal and reputational damage of Anti-Money Laundering compliance negligence. Through this protection AMLHUB and its customers contribute to the global fight against money laundering and the crime it enables.